About Aruba Timeshare Riu Palace Aruba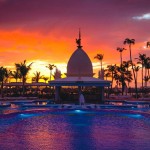 The Riu Palace Aruba offers 35 one and two bedroom Aruba Timeshares located on the most beautiful stretch of Palm Beach.  This time share resort is located within the Riu Palace Aruba Hotel and offers the most affordable vacations in Aruba for rent or for sale privately by members.
Renting an Aruba Timeshare at the Riu Palace Aruba, offers an ideal option for those seeking something larger than a hotel room as their home away from home. Timeshare suites at the Riu Palace Aruba, offer spacious accommodations, similar to one and two bedroom apartments. Purchasing resale timeshare units offer Aruba vacationers the luxury of staying at the world's most popular vacation resorts without the expense of resort rental prices. This is an attractive and affordable way to prepay your vacation at your favorite Aruba destination.
As a timeshare guest, you have access to most of the amenities offered by the Riu. All inclusive packages and individual meal tickets are available for timeshare members and their guest to purchase.  Daily housekeeping is also available for a nominal weekly fee.  The spacious one bedroom timeshare suites include a King master bedroom, living room with a queen size sleeper sofa, dining area, fully equipped kitchen, one or two large baths with linens, private balconies, hair dryer, in room safe, Flat Screen TV's, free WIFI a touch tone telephone.  The spacious two bedroom timeshare suites include a King master bedroom with a private bath and linens, a second bedroom and bath, living room with a queen size sleeper sofa, dining area, kitchen/kitchenette, private balconies, hair dryer, in room safe, Flat Screen TV's, Free WIFI and touch tone telephones.  There are 12 direct beachfront one and two bedroom Timeshare apartments located right on Palm Beach.  The remaining units are located on the 3rd and 5th floor.  Timeshare is non smoking.
The original Royal Palm Club was designed by the owners of the Aruba Grand Hotel.  Memberships were sold for a thirty five year period on four floors of the hotel, by the week, as premier Aruba timeshares.  In 2006, The Riu Palace purchased the Aruba Grand and paved paradise with an all inclusive luxury hotel.  Fortunate for timeshare members, the Riu Palace Aruba maintains the RPC memberships.  Throughout the years, members often find themselves willing to sell or rent their timeshare units.  The Aruba Riu Timeshare web site provides private access to available units within the member network.
Please note that Riu Palace Aruba and Riu Aruba Timeshare web site are independent of each other. The Riu Aruba Palace does not sell or rent time share units. The only way to rent or buy a timeshare at the Riu Palace Aruba is from an original member. The timeshares displayed on this web site are personal ads placed by the timeshare members themselves.  Before renting or purchasing a timeshare unit over the internet, please contact the resort to verify all of the information is correct.